Biography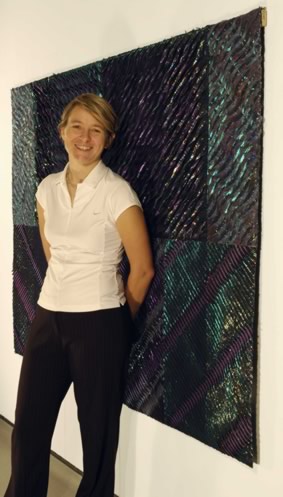 Karina Thompson is a textile artist based in Birmingham , England and has been exhibiting her work since 1987.
As a result of a research fellowship at Winchester School of Art, Karina began to experiment with the technique slashing and as a result began to increase the scale of her work. She was shortlisted for Quilt 2004 and became a member of Quilt Art, a collective of some of Europe 's most respected quiltmakers in 2005. Her work was chosen for the catalogue cover of 'Quilts in time', the opening exhibition of the Quilt Museum in St Anthony's Hall, York in July 2007. Her slashed work was selected for the 4th European Quilt triennial, acCent! UK Art Quilts at the Quilt Museum , Paducah USA and Quilt National '09.
She began collaborating with VSM UK ltd, the UK distributors of Pfaff sewing machines in 2008. Building on research that she had started for a commission for the Maxillo facial outpatients department at Salisbury District Hospital she began to translate medical data into digitally programmed embroidery. This lead to a commission of 12 pieces funded by Cure Leukeamia for the Centre for Clinical Haematology at the Queen Elizabeth Hospital, Birmingham. It has also be exhibited at ITAB: International TECHstyle Art Biennial, San Jose , California USA and the Craftspace exhibition Made in the Middle currently touring the UK.
Karina lives in Selly Park , Birmingham with her partner and two cats.